If you are into wood burning (pyrography) or woodworking a custom stamp can be a huge time saver and bring future customers and orders in your door. If you just make for your family, the mark you put on the pieces will be looked at fondly for generations as the stories are retold of the piece's origin and its maker.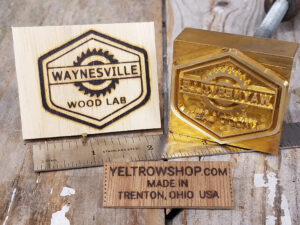 The process to get your own is easy–You don't need to have a logo already. You don't need to be able to design one. You don't need computer skills other than to exchange emails about it. You also don't even have to be sure exactly what you would want on it. If you don't have those things, how can you get one made?
Where to Start
That's where I come in. I have guided over 1,600 people through the process of creating beautiful wood burning stamps so I know what questions to ask to save you time, inspire ideas, and avoid mistakes that other vendors would let you make. The process takes an average of only 4.8 responses to go from first contact to a completed design. So how do I do that?
I listen and then provide examples that draw from my pool of previous designs to help you converge on a final concept that incorporates all of the considerations needed for the branding medium. Through practice it has become very efficient.
Ready, Set, Go!
The fasted way get a wood burning stamp is to pick a size and checkout. If you aren't sure on size that's fine–I can adjust your order at any time. When I see that order come in you'll be amazed at the personal attention you receive. If at any point you feel the process isn't working for you I'll quickly refund your order. I'm in the happy people business.
My Offer
My wood burning stamps start at $89 and increase in cost with the amount of metal involved. For that you'll not only get a quality tool, but my personal help in getting exactly what you need. I'll provide you the artwork files so you can use the for anything you like. That's an exceptional value since many people charge as much for just a logo. You can get yours below.
About
I started Yeltrowshop LCC to show my kids that enterprising creativity and perseverance are rewarded and to provide them "character building work opportunities" like I had growing up. Now that they are grown, I've continued because I enjoy the creative outlet and I enjoy the delighted reactions of my customers when they see their ideas come to life. The items I make in my shop can be viewed here.
Follow us!