If you are into wood burning (pyrography) or woodworking a custom stamp can be a huge time saver and bring future customers and orders in your door. If you just make for your family, the mark you put on the pieces will be looked at fondly for generations as the stories are retold of the piece's origin and its maker.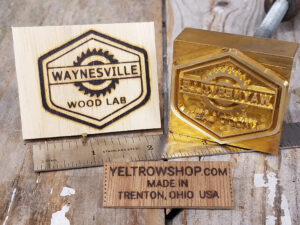 The process to get your own is easy–You don't need to have a logo already. You don't need to be able to design one. You don't need computer skills other than to exchange emails about it. You also don't even have to be sure exactly what you would want on it. If you don't have those things, how can you get one made?
Where to Start
Everyone would like to mark their work professionally and beautifully, but it isn't always clear where to start.
That's where I come in. I have guided over 1,600 people through the process of creating beautiful wood burning stamps so I know what questions to ask to save you time, inspire ideas, and avoid mistakes. The process is so refined it takes an average of only 4.8 responses to go from first contact to a completed design. So how do I do that?
Listening. Digging a little deeper. Providing options. Guiding decisions. Doing the worrying and fine adjustments for you. Although that kind of care may sound expensive, through practice I've come up with ways to drive out wasted time and mistakes and provide you better value. Want an example?
My Productivity = Your Value
When I save time, I shift that time to focus on you. In my shop, I batch orders to save time. But having a big batch of wood burning stamps all done in a pile could lead to mix-ups, right? Not in my shop. To allow this time saving technique, but prevent mistakes, I have written software that organizes all the orders I'm running into a printed list complete with barcodes and pictures. When I scan them it automatically takes care of many tasks that have to be done when I finish the job. I have dozens of other examples I could bore you with — the point is that by figuring out ways to save time in my shop I can deliver exceptional service and value on a product you'll be proud to tell people is Made in the USA. So where do we go from here?
Ready, Set, Go!
The fasted way get a wood burning stamp is to pick a size and checkout. When I see that order come in you'll be amazed at the fire hose of personal attention I turn on you. If at any point you feel the process isn't working for you I will cancel the order and refund your money without giving you an ounce of grief.
The Deal
My wood burning stamps start at $89 and increase in cost with the amount of metal involved. The design work is included. That's an exceptional value since many people charge that much for just a logo. You can get yours below.
Follow us!