by Matt
I think of myself as a relatively smart guy, but this dumb move had me wondering. When I first began making branding irons for people to stamp their logos on things, I sent out plain wood handles that looked nice and did the job, but opportunity was passing me by. Every single one of my customers knew something I had yet to discover.
More than just pretty
Stamping logos on things is fun. It feels good and looks awesome. I just thought they were cool and people liked them. What i didn't think about was why they did it.
The Epiphany
They were doing it because the things they ship out of their workshops are awesome and when people see them they (and their friends) want to buy more of those and need to know where to go. A logo stamp is one time cost advertising! Compared to websites or flyers or ads it is stupid cheap! So back to my mistake…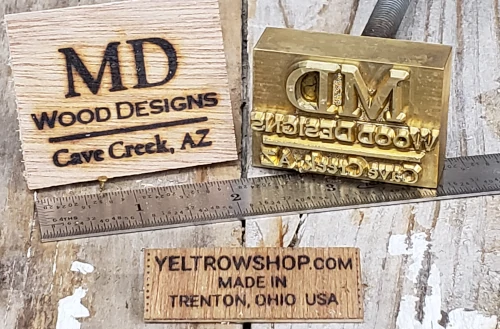 My Mistake
I had sent nearly 400 awesome looking branding irons out into the world without putting my business name on the handles. I had given up the opportunity for those 400 items to show off my work and send repeat business my way. I think you can appreciate the …irony… of that 🙂 Sorry… Had to. So what can you learn from my mistake?
You can do better
Avoid missing out on repeat sales like I did, and have a quality logo stamp made by the owner of an American small business. After almost 2000 designs, I am much better at making branding irons than I am marketing. I'll help you create a beautiful metal logo stamp you need to make every workpiece a sales engine for your business–AND for a price you won't believe after you experience my personal attention and service. –Matt
About
I started Yeltrowshop LCC to show my kids that enterprising creativity and perseverance are rewarded and to provide them "character building work opportunities." Now that they are grown, I've continued because I enjoy the creative outlet and the delighted reactions of my customers when they see their ideas come to life. The items I make in my shop can be viewed here.
Follow us!